About
This article demonstrates step-by-step instructions for
How to Auto Provision Cisco SPA for Circuit ID Phone System
.
Step-by-Step Instructions
The below table will detail the steps required to accomplish your goals:
Upgrade Firmware
Circuit ID recommends that you upgrade the firmware on your phone to the latest version. For more information on how to upgrade to a newer firmware please see How to Upgrade the Firmware on Cisco SPA525G.

Setup Your Phone
Connect the phone's Ethernet cable to the back of the phone, and your router. Or, if you are using Wi-Fi, ensure to setup the Wifi profile. Now, power on the device.

Locate the Device IP Address
On the phone select Menu > Status as shown in Exhibit 2a, then select Network Status as shown in Exhibit 2b. Next, look for IP Address.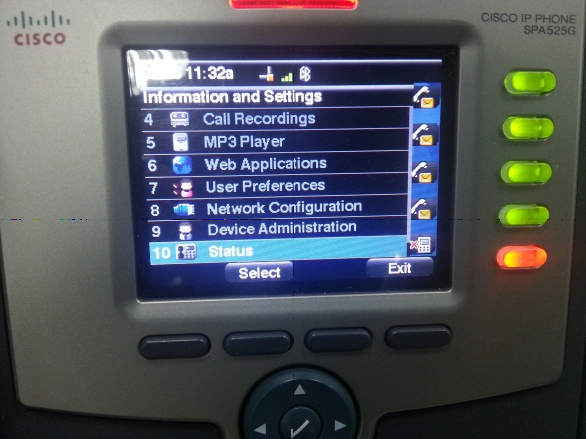 Open Web Interface
You're on a role! Please open your web browser and enter the URL http://192.168.1.101 replacing the IP address with the IP address of your phone that you obtained in Step 4 of this article.
Now, scroll down and fill-in the Profile Rule section with the following provisioning URL: http://www.circuitid.com/api/provision/$MA.cfg
Click Save and the phone will reboot with the users loaded profile.
Conclusion
Congratulations! You have now completed the
"How-To How to Auto Provision Cisco SPA for Circuit ID Phone System"
article and we hope that you have accomplished the goals you set out to achieve. However, if for any reason you may still require assistance with setup, simply login to the
Management Portal
and submit a support request.