About
This article demonstrates step-by-step instructions for
How to Bring My Wireless Device to CircuitID (BYOD)
.
Step-by-Step Instructions
The below table will detail the steps required to accomplish your goals:
Confirm Device Compatibility
Please refer to the below table confirm your devices compatibility. You will also want to ensure you device is not locked by another wireless provider.

| | |
| --- | --- |
| Amazon | Amazon Fire, Amazon Fire - 32GB, Amazon Fire - 64GB |
| Apple | Apple iPhone 5c - 32GB |
| Asus | Asus A80 |
| BlackBerry | PRIV by BlackBerry, BlackBerry Passport |
| Google | Pixel |
| HTC | HTC Desire 610 GoPhone, HTC M8, 0P6B110 - HTC, HTC One A9, HTC One M8, HTC One M9, HTC Desire 626, HTC One (M8) for Windows, HTC Desire EYE, HTC One (M8), HTC Desire 610 |
| i am plus | i.am+ PULS |
| Kyocera | Kyocera Hydro AIR GoPhone, KYOCERA DuraForce PRO, Kyocera DuraForce XD, Kyocera DuraForce, Kyocera DuraXE |
| LG | LG Watch Sport, LG K10, LG G6 |
| Motorola | Motorola XT1053, Moto X (2nd Generation), Moto X , Nexus 6, Moto G4 |
| Nokia | Nokia Lumia 830 with Fitbit Flex, Nokia Lumia 830, Nokia Lumia 1520 - 16GB, Nokia Lumia 1520 - 32GB, Nokia Lumia 1520 |
| Samsung | Samsung Galaxy Alpha White, Samsung Galaxy Note5 - 32GB, Samsung Gear S2 classic, Samsung Gear S2, Samsung Galaxy Note7, Samsung Connect auto, Samsung Galaxy S8, Samsung Galaxy S8+, Samsung Galaxy Alpha, Samsung Gear S, Samsung Gear S3 frontier |
Purchase a Plan with Wireless
There are two ways to get to the purchasing page. First, in the management portal, click the Cart Icon to load all products and services offered by Circuit ID as shown in Exhibit 2a. The second option is from the dashboard, click the Profile icon on the top right side of the page as shown in Exhibit 2b. Next, go to Settings tab and click on Apps under Manage as shown in Exhibit 2c. Then, purchase a plan with wireless as shown in Exhibit 2d.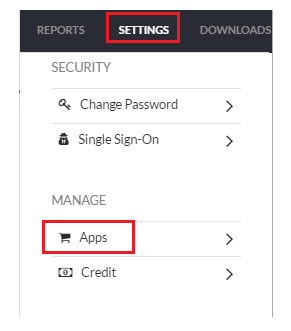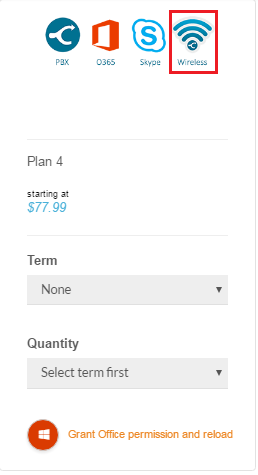 Order a SIM Card
Order a SIM card from the Circuit ID store and have it shipped to your users, customers, or yourself in as little as 2 hour in select locations and continue to step 4.
Create Wireless Device
Now, navigate to Phone > Clients and click the create icon on the top right-hand side of the page. Complete the required fields, for Type, ensure to select Wireless as shown in Exhibit 4a. Then click Save as shown in Exhibit 4b. For your convenience, a description of each field is given below:
Info
Advanced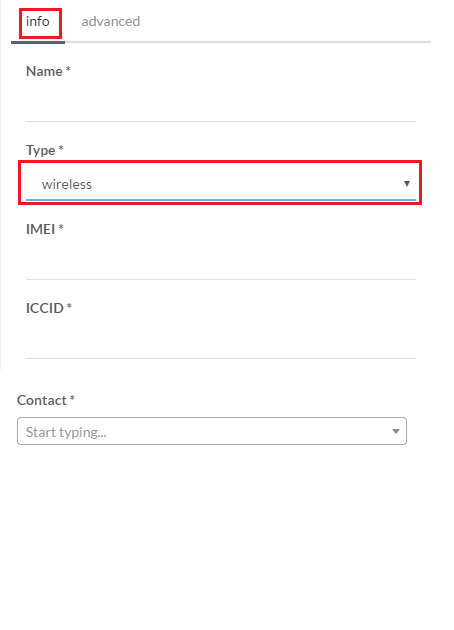 SIM Card
You are just about done! Now, just install your SIM card into your device and power it on. Your device should now be connected and you can start making calls!
Conclusion
Congratulations! You have now completed the
"How-To Bring My Wireless Device to CircuitID (BYOD)"
article and we hope that you have accomplished the goals you set out to achieve. However, if for any reason you may still require assistance with setup, simply login to the
Management Portal
and submit a support request.